Blog
By Danielle Perra, Logan Kelly, and Michelle Herman Soper, Center for Health Care Strategies
---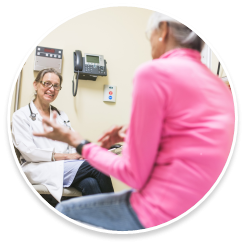 Individuals who are dually eligible for Medicare and Medicaid often have multiple chronic conditions, behavioral health issues, and functional needs and frequently receive fragmented, uncoordinated care across both programs. People eligible for both programs include Medicaid beneficiaries who qualify for Medicare after turning 65 years old or individuals under 65 who are eligible based on a permanent disability. This population is both high need and high cost, making up a disproportionate amount of overall Medicare and Medicaid spending.
During the past 10 years, more states have pursued programs that integrate Medicare and Medicaid benefits for dually eligible individuals, with increasing evidence supporting positive health outcomes and efficiencies associated with these models. However, despite recent increases in integrated models, only about 10 percent of dually eligible individuals are currently enrolled in such programs. Health plans, policymakers, and health system leaders interested in more effectively addressing the complex needs of dually eligible individuals can benefit from understanding the evidence on Medicare-Medicaid integration and learning about promising strategies for implementing integrated care program and delivery models.
To support health care stakeholders in advancing greater integration of care for dually eligible individuals, the Better Care Playbook curated a set of resources to help health plans, policymakers, and providers better understand: (1) the needs of this population, focusing on the diverse subsets of dually eligible individuals; (2) the evidence for investing in integrated care; and (3) implementation resources and policy considerations for advancing integrated care models.
Understanding High-Need Dually Eligible Individuals
There are many diverse subgroups within the dually eligible population, including individuals with various physical and behavioral health, functional care, and social needs. Medicaid and CHIP Payment and Access Commission (MACPAC) produced a report with in-depth background information about people who are dually eligible for Medicare and Medicaid, providing stakeholders with a broad overview of this population's needs. To further understand specific segments of the dually eligible population, one study examined cost drivers for persistently high-cost dually eligible individuals and found that these costs disproportionately relate to long-term services and supports needs, rather than to potentially preventable hospitalizations. Another study found that the highest combined Medicare and Medicaid spending is for older adults nearing the end of their lives, and younger individuals with sustained needs for functional supports.
By better understanding the needs of dually eligible populations, stakeholders can more effectively tailor programs for specific population subsets, especially individuals with long-term services and supports and behavioral health needs who could benefit from coordinated, person-centered care. For example, a case study of one integrated health plan illustrated a strategy to meet the needs of dually eligible individuals with serious mental illness through stratifying this population, and adjusting the care team structure while optimizing the balance of medical, behavioral, and social care.
Evidence-Based Interventions

Improve Care through Medicare-Medicaid integration
Numerous studies demonstrate the success of models integrating Medicare and Medicaid in creating better health outcomes for dually eligible individuals. Fully integrated models of care that have been implemented across many states include the Program of All-Inclusive Care for the Elderly (PACE), Financial Alignment Initiative (FAI) demonstrations, fully integrated dual eligible special needs plans (FIDE-SNPs), aligned Medicare Advantage dual eligible special needs plans (D-SNPs), and managed long-term services and supports programs (MLTSS). A MACPAC analysis reports that dually eligible enrollees in these integrated models generally experience lower rates of hospitalizations and readmissions than those enrolled in non-integrated models. Additional resources detailing the impact of enrollment in these integrated models for dually eligible individuals include:
A case study of a PACE program, including information on the funding structure and care model;
A study demonstrating that dually eligible individuals in Oregon enrolled in plans with aligned Medicare and Medicaid benefits experienced more improvements in care;
A study demonstrating how a statewide FIDE-SNP model in Minnesota led to higher use of primary care — and potentially also of community-based services — and lower use of acute care.
Implementation Resources and Policy Considerations for Advancing Integrated Models
Health care stakeholders can access implementation and technical assistance resources on the Playbook to learn about successful models and support their work in advancing integration.
Health plans and providers looking to better meet the needs of dually eligible individuals may benefit from strategies for designing and managing consumer advisory councils, as well as practices for hiring and training care managers. Many health plans and providers are also looking for effective strategies to address care transitions of dually eligible individuals moving between acute, long-term care, and community settings.
State Medicaid agencies are beginning to see a return from their investments in integration models, due to improvements in beneficiary experience and program efficiencies, and a more streamlined administrative structure for managing data and programs that support this population. Developing these programs, however, can be a major undertaking. This technical assistance guide can support states in assessing their own readiness and developing their goals and integration approach. Understanding that many states are in various places in developing goals, designing new programs or refining existing ones, this roadmap identifies important steps to advance more integrated and coordinated care. States can use this tool to better understand options for foundational design decisions, as well as considerations for choosing the best integration model to support their state structure and meet respective policy goals.
Medicare-Medicaid integration policy and programs continue to evolve, including several recent policy changes regarding this population. The CHRONIC Care Act of 2018 expanded new opportunities around integration, including additional flexibilities for Medicare Advantage supplemental benefits. It also requires new integration standards for D-SNPs, which providers, health plans, and policymakers should understand.
Future of Medicare-Medicaid Integration
Medicare-Medicaid integration models have improved care for dually eligible individuals and decreased the cost of a complex, high-needs population in several states and individual programs. Both MACPAC and the Bipartisan Policy Center have published reports identifying state and federal opportunities to advance integration, offering valuable guidance for policymakers seeking to improve care for dually eligible individuals. Integrated care programs have been highly regarded in their response to the COVID-19 pandemic, and evidence and trends indicate that the programs will continue to grow in coming years. Future research that produces clinical and financial return-on-investment data, as well as evidence regarding effective design elements, may support broader adoption of integrated models. The Better Care Playbook will continue to curate and synthesize emerging resources on evidence-based and promising integrated models of care for dually eligible individuals on our Medicare-Medicaid integration topic page.