Play Strategy
In an environment where social determinants are playing more of a role in conversations about improving health outcomes, it is critical for the health care and social sectors (which often take the form of local community-based organizations, referred to as CBOs) to build mutually beneficial partnerships. This play outlines steps to help health systems and CBOs build relationships that draw on each other's strengths, put patients first, and support ecosystem development in local communities.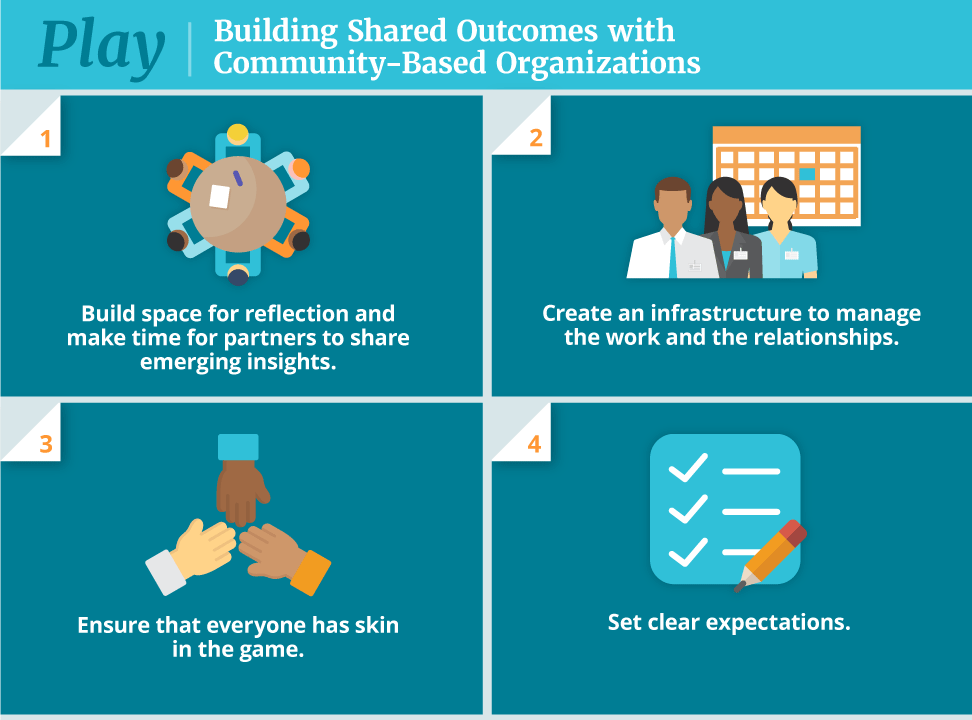 How to run the Play
Build space for reflection and make time for partners to share emerging insights.
Find ways to share and use data creatively to clearly understand progress and performance.

Create channels for reporting out to the community and local officials systematically on successes and failures.
Create an infrastructure to manage the work and the relationships.
Define roles, decide who is accountable for what, establish timelines, and stick to them. Structure creates the place where trust starts to build.

Create a group charter that details partnership purpose, logistics, responsibilities, and timeframes.
Ensure that everyone has skin in the game.
At the outset, establish rules of engagement and rules for how the partnership will operate. Help partners understand their time commitment (e.g., establish how many meetings a month or provide an annual meeting calendar).

Include expectations of resource sharing and agree to terms of the partnership, like membership fees or in-kind contributions.
Set clear expectations.
Partners should acknowledge their limits and be honest about what they can and cannot contribute.

Data sharing is a must for all partners, as is a commitment to shared care planning and performance reporting.
Tips and tricks
A strong backbone organization drives progress in a collaborative project. This organization can play a key role in getting people to meetings, keeping track of decisions, handling day-to-day issues, and other day-to-day supports. Health systems are typically better staffed and more financially resourced than CBOs, so backbone support is often a key contribution made by the health system partner.

You can encourage commitment and a shared sense of responsibility by setting expectations that partners have to show up, give time, share expertise and their lived experience, and contribute financial or other resources within their means.

Setting milestones, along with measuring outcomes, helps partners track progress and celebrate when they reach them.

Recognize that each organization will bring its own priorities to the table.
ADDITIONAL RESOURCES
---
This Better Care Play is part of a series developed in partnership with the Camden Coalition of Healthcare Providers to share practical lessons in serving complex populations. Following are additional resources in the series: