Play Strategy
This play was produced by the Institute for Healthcare Improvement (IHI) and authored by Corey Waller, MD.
Substance use disorder, commonly called addiction, is a treatable chronic disease that is a significant contributor to health care utilization and poor health outcomes in the United States. Even though it is estimated that up to 60 percent of patients in the US Level 1 Trauma Centers meet the criteria for a substance use disorder, few hospital emergency departments have a service line for these patients. This Play can help you treat substance use disorder in the emergency department as part of developing your care model.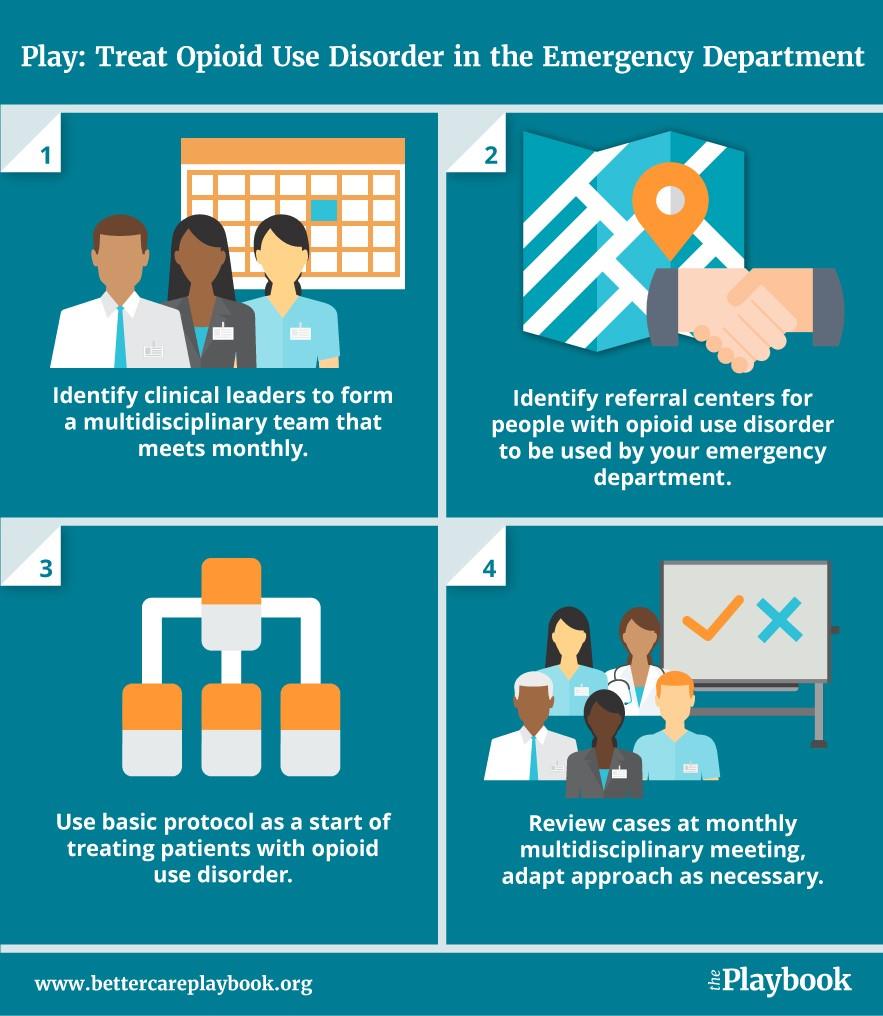 How to run the Play
Form a team composed of clinical leaders among physicians, nurses, pharmacists, and social workers, and provide appropriate administrative authority to develop algorithms and order sets. This multidisciplinary team should meet monthly and have regular contact with hospital and emergency department leadership.

Identify your emergency department's referral centers. It is important to refer each substance use disorder patient in the emergency department to an appropriate level of care. At minimum, ensure that the referral partner can continue prescribing buprenorphine. Where possible, in-person meetings can help to facilitate referrals.

Use the basic protocol (below) for treating patients with opioid use disorder. Adapt as necessary for your emergency department.

Review cases during the multidisciplinary team's monthly meeting and make necessary changes to your emergency department's approach.
Tips and tricks
Identify clinical leaders
Clinical leadership must be identified early and given some administrative authority to develop algorithms and order sets. The basic roles of these team members are as follows:
Physician: The primary role of the physician on this team is to obtain an X–license through the eight-hour training course approved by the Substance Abuse and Mental Health Services Administration (SAMHSA). After completing the course, the physician can apply for the license through SAMHSA's website. The course will provide training in how to use buprenorphine for patients with opioid disorder, and the license will give the physician the authority to prescribe it. (Physician assistants or nurse practitioners are also eligible to apply, but they will need to take the 24-hour course to obtain the same license.) The secondary goal for the physician will be to rally at least half of the other prescribers in the emergency department to obtain an X-license. Training options include an onsite course and an online version, and prescribers may be offered incentives such as preferred shift selection for the next three months.
Nurse case manager: The role for this team member is to develop, along with the prescriber, training for other nurses on how to utilize buprenorphine in the ED setting, as well as patient-level education. This education would include basic laws governing utilization and the unique pharmacology of this medication. The team member may also work collaboratively with the social worker to help facilitate the transition of care from the emergency department to the appropriate treatment and level of care.
Pharmacy: The role of the pharmacist is to request buprenorphine through the pharmacy and therapeutics committee, so it can be stored and dispensed in the ED, entered into the electronic medical record, and developed as an order set for patients who arrive in acute withdrawal from opioid use. Pharmacists will also need to be available to answer questions from clinicians without X-licenses concerning the utilization of the medication in the ED.
Social worker: The social worker's role is to help develop the pathways for motivational interviewing with the patient, provide motivational interviewing training for the clinicians and nurses, and to develop a high-fidelity transition of care and screening modality [NOTE: Will link to blog] in the emergency department setting. While the social worker is best for this role, it can be delegated to nursing if no social worker is allocated to the ED.
Identify the emergency department's referral centers
There are four major levels of care to which a patient can be referred for treatment. It is imperative that the patient be matched with the appropriate level of treatment. The criteria delineated by the American Society of Addiction Medicine (ASAM) can be utilized through an online platform, CONTINUUM.  This tool provides a short form that can help to quickly identify the appropriate level of care for each patient. A much longer form, which may be more accurate, is also available, but its practicality in the ED is questionable. A requirement of the referral partner, regardless of the level of care, is the ability to continue prescribing buprenorphine. The basic levels of care are:
Treatment level I or level 1 Opioid Treatment Program (OTP): outpatient treatment where the patient will be prescribed or administered buprenorphine. The source of the treatment can be a primary care physician with whom previous arrangements have been made for a rapid evaluation and continuation of buprenorphine or an OTP/methadone clinic that is able to either dispense or prescribe buprenorphine to patients.
Treatment level 2 or intensive outpatient (IOP)/partial hospitalization: a more intensive outpatient treatment where the patient can be seen for between nine and 20 hours per week. While the increased intensity of treatment in an IOP is important, the patient's ability to be prescribed buprenorphine is equally important to maintain stability and retention in treatment.
Treatment level 3 has multiple sub-levels but ultimately is a residential treatment program. With varying levels of clinical oversight, the patient stays in a facility 24 hour per day. Again, these facilities must be able to prescribe or dispense buprenorphine for patients with opioid use disorder.
Treatment level 4 is a medically managed detox facility, usually either in a freestanding psychiatric hospital or the equivalent of admitting a patient to stabilize their withdrawal syndrome. Utilization of buprenorphine or methadone is standard in these facilities.
Use this basic protocol as a starting place.
Additional Resources: