Play Strategy
Human-centered design offers a methodology and mindset that can help you develop a complex care program that addresses the realities of the people you serve. People with complex needs have complex lives, attitudes, and behaviors that are often based on life outside the medical system. The human-centered design approach aims to make systems usable and useful by involving the human perspective in all steps of the problem-solving process. For example, Stanford Coordinated Care used design thinking to identify patients' need to have facts translated into actionable advice; one care coordinator helped a patient calculate her insulin dose by sending pictures of her food. Developed by IDEO, a design firm, the Field Guide to Human-Centered Design offers dozens of methods to understand the people you serve, generate ideas for how to solve their problems, and test and refine those ideas as they become part of your program.
The goal of this Play is to help you develop your care model.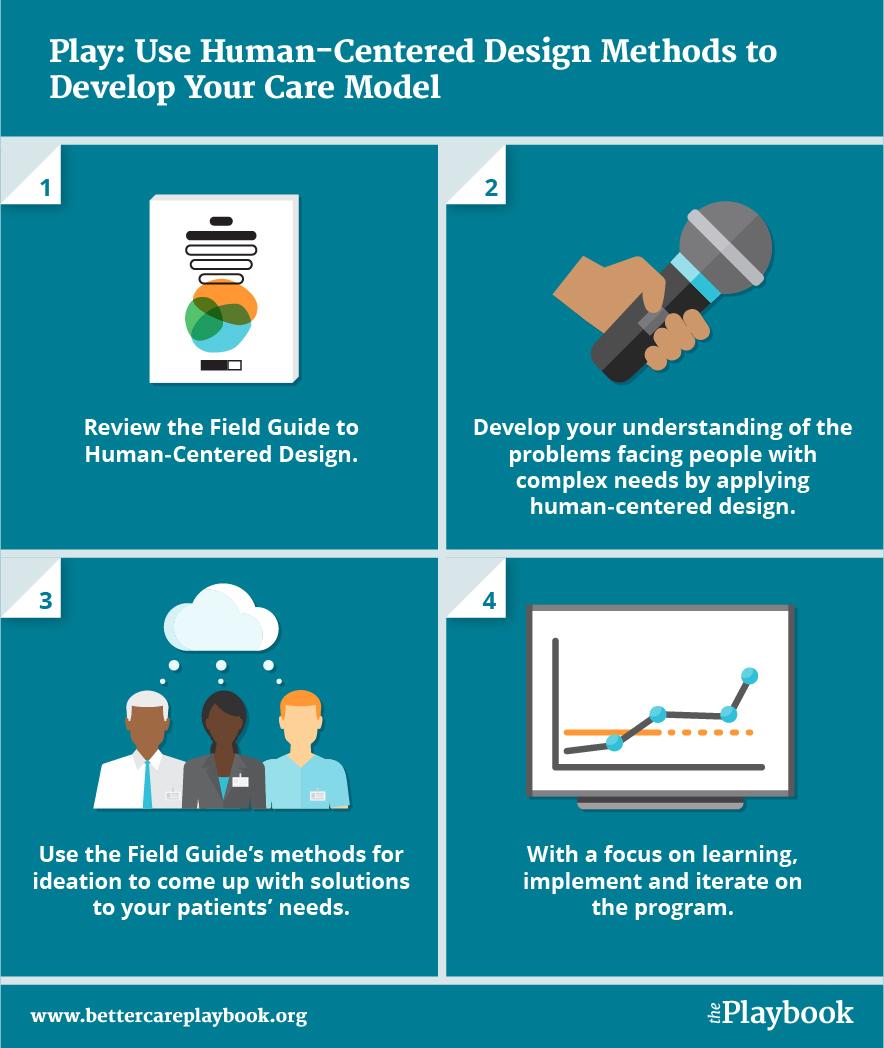 How to run the Play
Review the Field Guide to Human-Centered Design.
Develop your understanding of the problems facing people with complex needs by applying human-centered design.
Use the Field Guide's methods for ideation to come up with solutions to your patients' needs.
With a focus on learning, implement and iterate on the program.
Tips and tricks
Human-centered design is as much about mindset as methods. Try to be creative, comfortable with not knowing the answer, be ready to make something and see it fail, and keep working in the belief that the problem can be solved.
One of the tenets of this approach is that the people with the problem hold the keys to the solutions. Take advantage of the creative methods in the Field Guide to get patient input on their needs and assets.
You may find that design-thinking methods, especially in the implementation phase, share similar philosophies to quality improvement. Feel free to use practices from both approaches — whatever you find helpful.
For more information